Villa Residence Resort: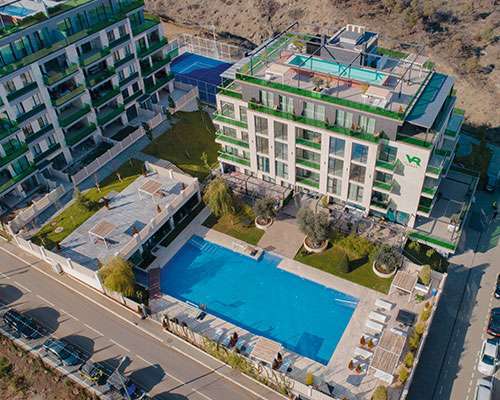 Villa Residence Resort cares about your convenience. There is no necessity for residents to travel far for dining, entertainment and activities, making it easy to relax without the hassle of transportation. Residents are able to choose variety of rooms as well as offers related to entertainment activities, that are fully tailored to the needs and requirements. We offer our residents the highest level of services that are adjusted to the needs of the residents.
Residents of the complex have the opportunity to use all kinds of infrastructure and services existing within the framework of the project. The complex consists of 6 floors with 27 apartments and a garage for 18 vehicles. On the first floor you will find a reception, a conference hall, a lobby for meetings and an open terrace.
Residents of the complex may enjoy the following services: concierge services; 24-hour security on the entire perimeter; 2 swimming pools; 25×10 m. swimming pool in the yard; 14×4 m. rooftop panoramic swimming pool with the beautiful views; fitness club; horse stable; ATV tours; tennis, basketball and football fields; KONE panoramic elevator; 45-meter sand pool with imitation of sea waves; bowling club; cafe "Oliva".
Villa Residence Resort complex is located: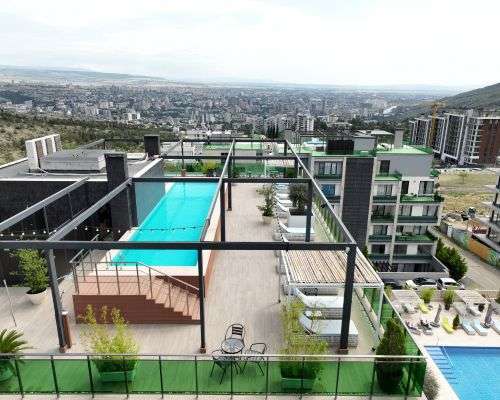 • 7 minutes drive away from Freedom Square
• 10 minutes drive away from the airport
• In the most ecologically clean area of Tbilisi
• In the embassies district
It should be noted that the project is located adjacent to the different embassies, that is
why we can confidently say that the following embassies are located in the diplomatic district of the project:
It is worth noting that the project is located in a place where different embassies are separated, that is why we can confidently say that the following embassies are located in the diplomatic district: Great Britain; Japan; Switzerland; France; Lithuania; EU monitoring mission in Georgia; Residence of the United Arab Emirates; Residency of Saudi Arabia and Residency of Qatar.
Distance between the buildings is 25-50 meters, and recreational area of various types of plants is arranged around the residences. Within the recreational areas, unique variety of plants, including 500-year-old olive trees are presented. We create a complete and top-quality environment for residents where they can relax and enjoy life.