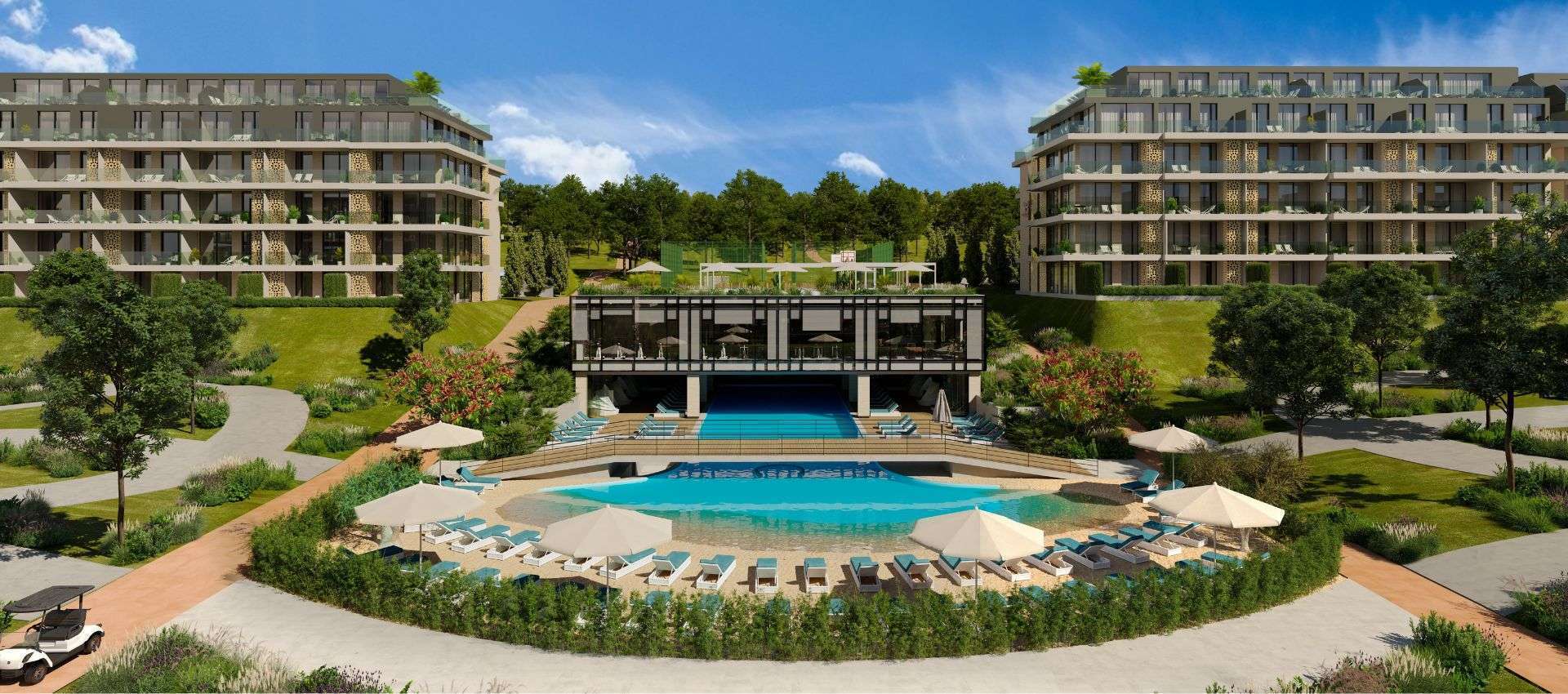 Experience Paradise by the Poolside at Krtsanisi Resort Residence
Welcome to a world where luxury living meets recreational bliss – Krtsanisi Resort Residence. Our exclusive residential complex in the heart of Tbilisi, Georgia, offers a truly unique amenity: a magnificent 45-meter-long swimming pool with a golden-sand coastline and a mesmerizing imitation of gentle sea waves.
The Pool That Sets Us Apart:
Golden Sands and Gentle Waves: Step into a serene oasis where you can bask in the warmth of yellow sands and cool off in the crystal-clear waters. Our lifelike imitation of sea waves adds an enchanting touch to your poolside experience, making it feel like a coastal getaway right in the heart of the city.
Expansive and Inviting: Dive into the refreshing waters of our 45-meter pool, perfect for swimming enthusiasts seeking a rejuvenating workout or families looking to make lasting memories.
Sun-Kissed Relaxation: Lounge on our sunbeds, sip your favorite beverage, and soak up the sun. The poolside ambiance creates the perfect setting for unwinding, reading a book, or simply enjoying the beautiful Georgian weather.
Exclusive Benefits for Residents – At Krtsanisi Resort Residence, this splendid swimming pool is not just a feature; it's an integral part of your daily life. Exclusively accessible to our residents, it offers a host of benefits:
Wellness and Fitness: Stay in shape by swimming laps in the morning or join our aqua fitness classes. A refreshing dip is the perfect way to unwind after a busy day.
Family Bonding: Create cherished family moments by spending quality time together at the pool. Teach your kids to swim, have fun with water games, or simply relax in each other's company.
Serenity and Tranquility: Escape the hustle and bustle of the city and find peace by the poolside. It's a place where you can disconnect, meditate, or simply enjoy the soothing sound of water.
Comprehensive Fitness Centers:
Fully Equipped Gyms: Our gyms are equipped with top-of-the-line fitness machines, free weights, and cardio equipment, ensuring you have everything you need for a productive workout.
Yoga and Wellness Studios: Find your inner balance in our dedicated yoga and wellness studios. Join group classes or practice your own mindfulness routines in these peaceful spaces.
A Fit Lifestyle Awaits:
With two fitness centers at your disposal, you can enjoy the convenience of staying active whenever it suits you. Whether you prefer early morning workouts, lunchtime sessions, or late-night exercise, our fitness facilities are open to accommodate your schedule.
At Krtsanisi Resort Residence, we're more than just a place to live; we're your partner in achieving your fitness and wellness goals. Join our community and experience the difference a healthy and active lifestyle can make.
A Hub for Sports and Recreation:
At Krtsanisi Resort Residence, we believe that sports and relaxation go hand in hand. Our commitment to promoting an active lifestyle is reflected in our array of sports amenities. From tennis courts and jogging tracks to yoga spaces and well-equipped fitness centers, we offer everything you need to maintain a healthy and balanced lifestyle.
Breathe in the fresh air, live your passion for sports, and relax in the same space. It's all part of the extraordinary lifestyle we offer at Krtsanisi Resort Residence.
Join us in this vibrant community where the pool is just one of many treasures waiting for you. Experience the epitome of luxury living and recreational delight. Welcome to a life where you can breathe, live, and relax, all within the same space.
Discover more about Krtsanisi Resort Residence and secure your place in paradise today.