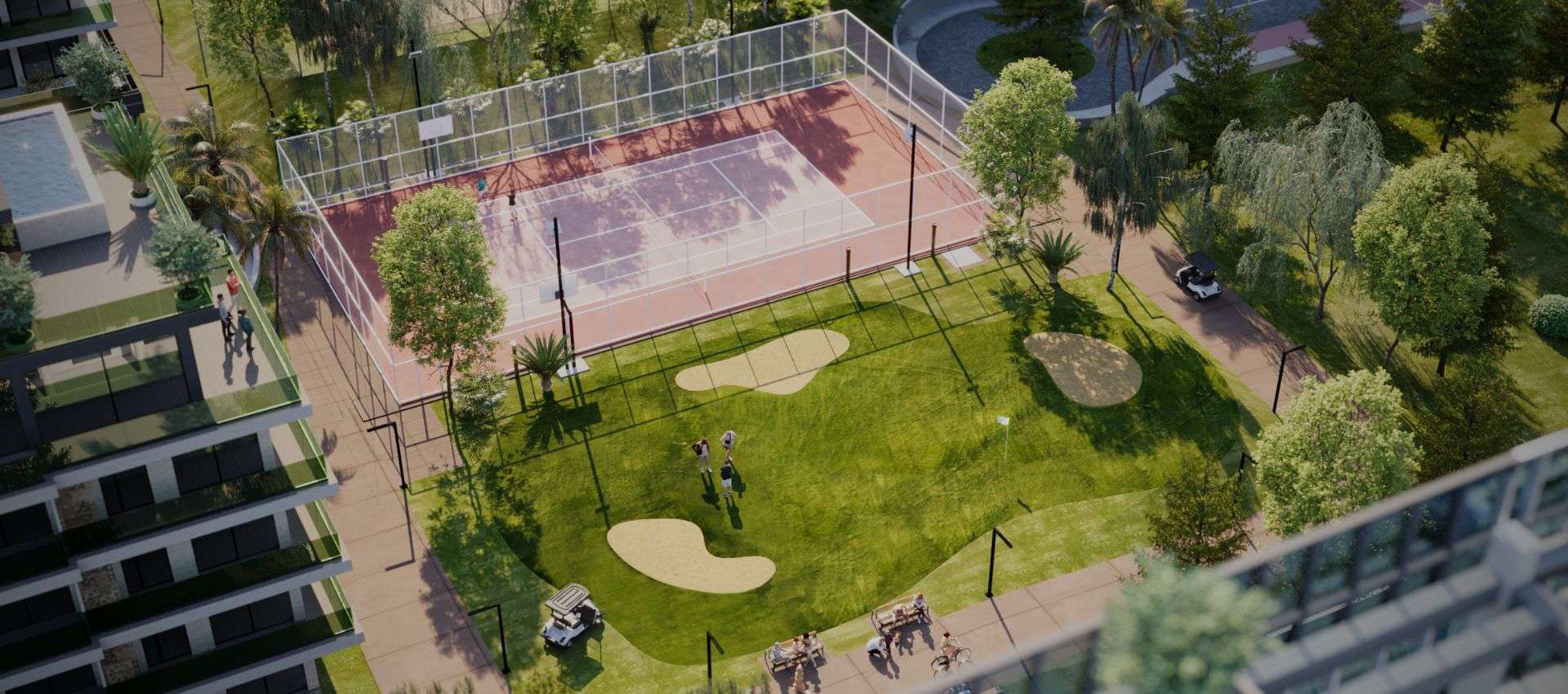 Elevate Your Active Lifestyle at Krtsanisi Resort Residence
At Krtsanisi Resort Residence, we understand that an active and vibrant lifestyle is essential for our residents. That's why we've created a haven of sports and recreational facilities that cater to every age and interest. From the young and energetic to the young at heart, our sports fields are designed to inspire, invigorate, and bring the community together.
Multifunctional Sports Field: Our multifunctional sports field is the epicenter of sports diversity. It's where you can engage in friendly matches of basketball, football, and tennis. Whether you're sharpening your dribbling skills, aiming for a perfect serve, or scoring goals, this versatile field has you covered.
Football Field: For passionate football enthusiasts, our dedicated football field offers the perfect pitch for thrilling matches and exhilarating goals. Gather your friends and neighbors for a game that brings the community closer, one goal at a time.
Basketball Field: Love the sound of a swish net? Our basketball field is where you can practice your three-pointers or enjoy a competitive game with fellow residents. It's a place where your slam dunks and jump shots become the stuff of legends.
Sand Volleyball Field: Dig, set, and spike your way to victory on our sand volleyball field. Feel the soft grains beneath your feet as you engage in friendly matches or organized tournaments with neighbors who share your love for this exhilarating sport.
Additional Tennis Court: Tennis enthusiasts, rejoice! We offer another tennis court for you to perfect your serves and backhands. Whether you're a novice or a seasoned player, our courts are ready to host your matches and training sessions.
Mini Golf Course: Challenge your friends and family to a round of mini golf on our beautifully landscaped course. It's a delightful way to unwind, improve your putting skills, and create lasting memories with loved ones.
Play, Compete, and Bond – Anytime You Desire:
What sets Krtsanisi Resort Residence apart is the freedom and flexibility our residents enjoy. Our sports fields are not just accessible; they're available whenever you want. Whether it's an early morning tennis match, an afternoon basketball game, or an evening football showdown under the stars, the choice is yours.
Our commitment to an active lifestyle extends beyond sports; it's about fostering connections, creating memories, and building a community where residents can come together, share their passions, and celebrate the joy of living.
Krtsanisi Resort Residence offers not just homes but a way of life. Join us in this vibrant and active community, where every day is an opportunity to play, compete, and bond with neighbors who share your enthusiasm for sports and recreation.
Discover more about Krtsanisi Resort Residence and embark on your journey to an active and fulfilling lifestyle.