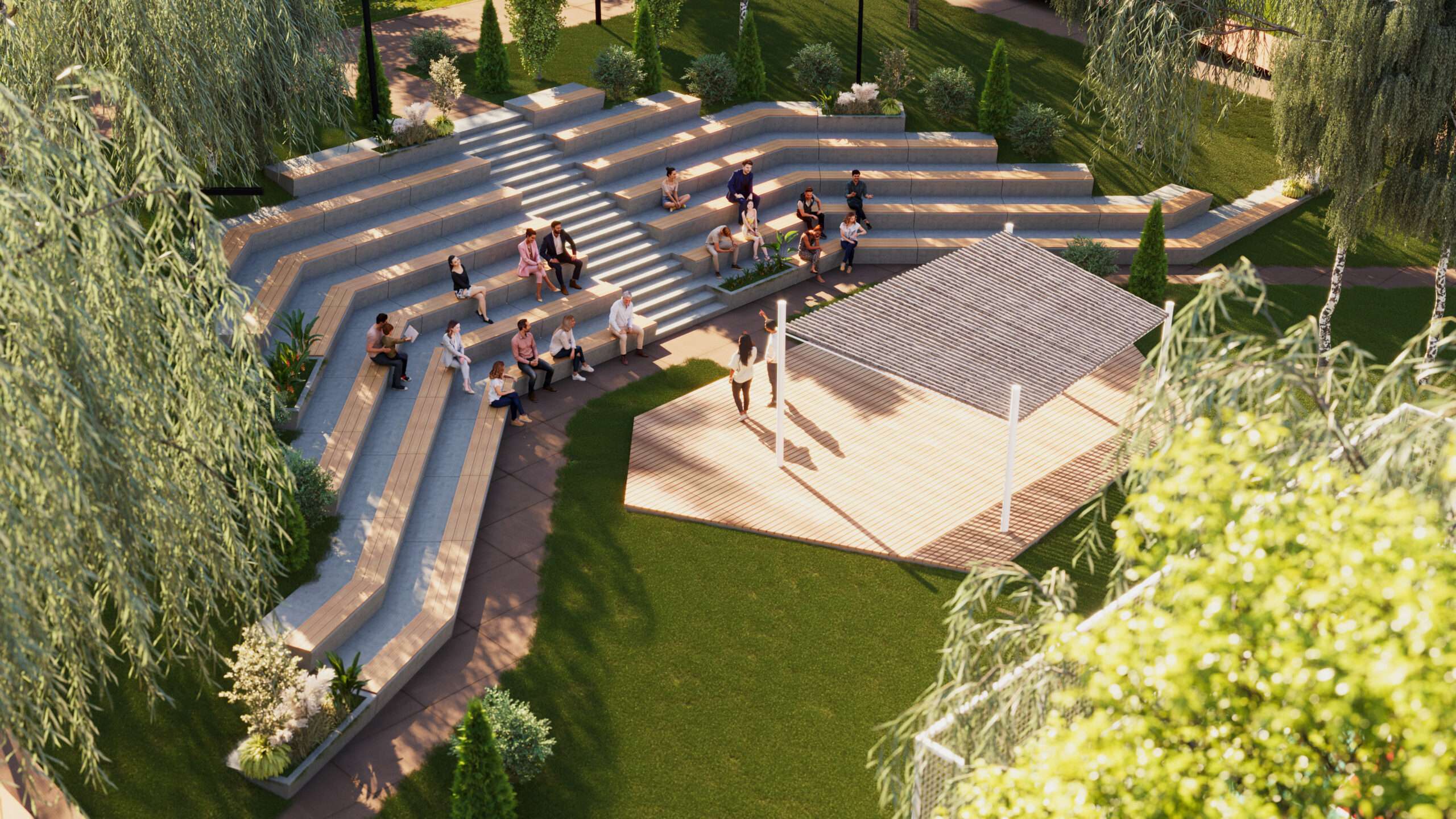 At Krtsanisi Resort Residence, we believe that life should be a harmonious blend of relaxation, culture, and social connections. That's why we've created an exquisite open-air amphitheater right within our complex—a place where residents can come together, celebrate the arts, and build lasting bonds in a truly enchanting setting.
A Space for Connection and Culture:
Our amphitheater is more than just an architectural masterpiece; it's the heart of our community. Nestled amidst the lush greenery and serene landscapes of Krtsanisi, it's a space where residents can gather for a multitude of cultural and social experiences:
Cultural Performances: Immerse yourself in the world of art and culture with captivating performances that range from live music concerts and theatrical productions to dance recitals and poetry readings. Our amphitheater is a stage where talent thrives and creativity shines.
Social Events: Whether it's a community gathering, a festive celebration, or a casual evening of mingling with neighbors, our amphitheater serves as the perfect backdrop for social events. It's a place where friendships are forged and cherished memories are created.
Educational Seminars: Stay engaged and informed with educational seminars, workshops, and lectures held under the open sky. Learn, grow, and share knowledge with like-minded individuals right here in your own community.
Natural Oasis: Surrounded by the beauty of nature, our amphitheater offers a serene escape from the hustle and bustle of everyday life. It's a tranquil spot where you can unwind, meditate, or simply enjoy a quiet moment in the company of nature.
A Gathering Place Like No Other:
What makes our amphitheater truly special is that it's not just a venue—it's a space designed to foster connections, inspire creativity, and cultivate a sense of belonging. It's where you can meet friends, welcome new residents to the community, and engage in the rich tapestry of cultural experiences that Krtsanisi Resort Residence offers.
As a resident, you have the privilege of accessing this cultural gem right at your doorstep. It's a space that embodies the essence of our community—a place where the arts, nature, and social connections intertwine to create a vibrant and enriching lifestyle.
At Krtsanisi Resort Residence, we invite you to embrace the arts, savor the beauty of your surroundings, and cherish the moments of togetherness that our amphitheater provides. Join us in this dynamic and culturally rich community, where every day holds the promise of new connections and unforgettable experiences.
Discover more about Krtsanisi Resort Residence and embark on a journey where culture, community, and the joy of living converge.